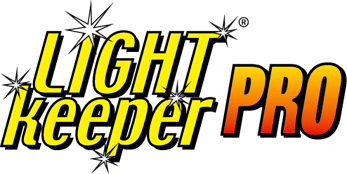 How the LightKeeper Pro Works

Fixes most light sets in seconds using the Quick Fix Trigger
Most miniature Holiday Light set failures occur when an individual bulb "shunt" fails to energize. These shunts are energized when a filament burns out. This causes a section of lights, usually 35 or 50, to go out instead of just one light bulb. This is because miniature light sets are wired in "series" and electricity must flow through each bulb, to the next, for them to light.The LightKeeper Pro Quick Fix Trigger sends a shaped, electrical pulse through the defective bulb, clearing the shunt. This allows it to operate properly. The current can then flow through the light set completing the circuit and illuminating the other bulbs.
The Patented LightKeeper Pro is the first product to FIX defects in a light set with the squeeze of a trigger.
Keep lights going and glowing despite a burned out bulb
Each wall plug has a "Hot", "Neutral" and "Ground" contact. Electricity is powered from the "Hot" contact and flows through the lights. It is similar to water flowing in a pipe. The LightKeeper Pro Continuity Detector/Voltage Detector uses an IC (Integrated Circuit) chip to find where the flow of electricity stops. It does this by detecting the minute electrical field emanating from the "Hot" wire even when a defect has caused the lights to go out. This electrical field when detected by the LightKeeper Pro, starts the beeping sound and continues as you scan the light string. When the electrical field stops emanating at the defect, the beeping stops. This shows where the problem is in miniature, series light strings. The detector finds the problem spot but the bulb or socket needs to be checked and appropriate repair action taken. The repair action may be securing a loose bulb, or testing a bulb to identify if it needs to be replaced.